Winter Weather
LeAnn posted this blog on Monday, March 28th, 2011 at 1:24 pm
The calendar says it is spring. But our yard sure doesn't look like it.
Last week, March 23, we got eight inches of heavy wet snow. Since then, the temperature has gotten down to between 4 degrees and 6 degrees Fahrenheit at night with a high of about 30 during the day. It wasn't until this weekend that the snow finally dropped off the trees and bushes. But there is still plenty of snow in the yard.
And it was just starting to look promising, too, with the snow melted off the grass and off the hayfield. But now it really looks like winter again. So far this year, we have gotten 83 inches of snow here at Rural Route 2.
I am hoping that I am now finally on the mend. Friday I went to the local clinic and got a heavy-duty antibiotic. Because of my allergies to antibiotics, it is about the only one I can take. I have had a sinus infection for the past month and have been getting sicker and sicker. With any luck at all, the meds will take care of it.
Here is what our yard looked like last Wednesday. We had a beauty of a thunderstorm the night before, too. When we've gotten "thunder snow" in the past, it has just been a few flickers of lightning and a couple of rumbles of thunder. But this particular thunder snow event went on for a couple of hours. . .
LeAnn R. Ralph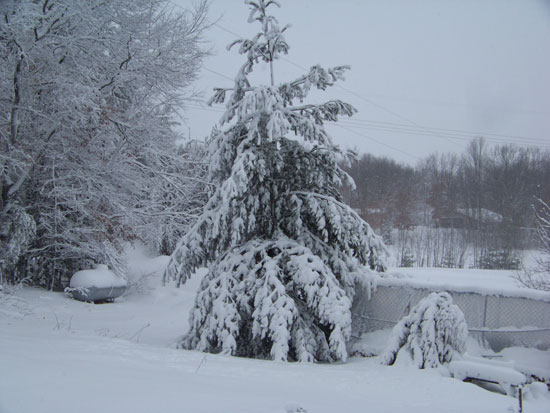 The pine tree and the cedar tree were weighted down, too, after the March 23, 2011, snowstorm. The chickens didn't know *what* to think.
Previous Blog Posting: Snow and Cold
Next Blog Posting: Spring!