A Cozy Fire
LeAnn posted this blog on Tuesday, November 13th, 2012 at 7:10 am
A "fire" in our little pot belly stove is so cheerful when it is blustery and cold outside.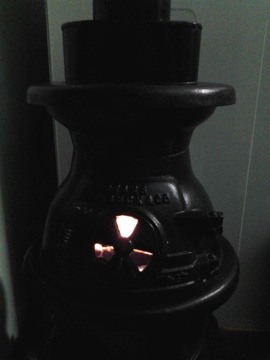 Actually the "fire" is a four wick candle, but it does give off a nice warm glow. The stove isn't hooked up to the chimney.
The pot belly stove is an antique Sears & Robuck.
Previous Blog Posting: Right in the Yard
Next Blog Posting: Blast from the Past